You Naturally Have Healthy Instincts with Food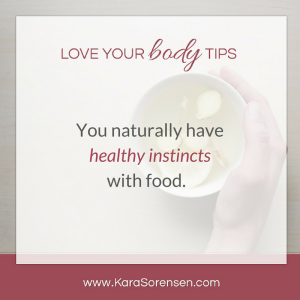 I hope you are enjoying this beautiful time of year. I'm writing today from sunny California. It's 75 degrees outside, what?
I posted this image on Instagram. This describes what I've learned in working with hundreds of women and men with severe food cravings over the last 9 yrs.
Many people believe that letting go of food cravings means depriving yourself. Not true! You let go of the obsession. Isn't that what you want?
It's a challenge to trust or feel good about your body when you're battling cravings. Plus, it makes it hard to eat the foods that nourish you or the treats you enjoy.
You Naturally Have Healthy Instincts with Food (from Instagram):
You really do, at your core, have healthy instincts with food. You know how much and what to eat and when to stop.
The problem is, we have been programmed to crave from an early age from positive emotional experiences. We unconsciously want that good feeling but our brain only remembers the food, not the good feeling with a parent or experience around that food.
We crave unconsciously until we make that neural connection. Once we do, we're free of cravings or obsessions.
We also are subject to nutritional misinformation like the whole low fat fiasco, which causes cravings. There are others but that's a biggie!
The good news is, underneath the unconscious programming and misinformation those healthy instincts reside intact and can be uncovered. Then food and eating are not emotionally charged, things are easy and you can simply live your life.
I did it and so can anyone!
Follow me on Instagram! I post tips to help you love the skin you're in. You deserve to feel good about your body, no matter what, and when you do, it's much easier to make positive changes in any area of your life.
Follow me HERE.
I'll be in touch during the holidays as I want to support you in enjoying food, without guilt or weight gain, so you enjoy your holidays!
All the best,