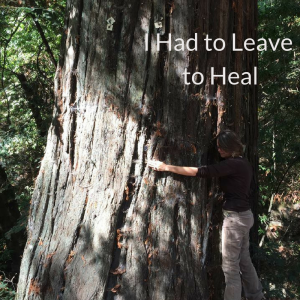 In my last post, I mentioned that I moved to San Diego and would share more about my quick exit. I'm sharing this as you may be able to relate to it and hopefully avoid unnecessary health challenges yourself.
My husband and I both love nature and were actively looking to move closer to nature about five years ago. We happened upon a beautiful house in the redwoods with amazing landlords. This place was everything we wanted. It was quiet, had open space and room for a garden. Dream. But, I noticed mold in the closet. The landlord said he would install a vent to keep the mold away and would take care of it, no problem. I was nervous about it, knowing how important it is for someone with a compromised immune system (I'm healing from autoimmune thyroiditis) to stay away from mold. I was so excited about this beautiful place and the potential for a garden. Even with that uneasy feeling in my gut, we moved forward.
Shortly after moving into our beautiful home in paradise, I told my holistic Doctor about the mold in the closet. She said "You must move!" Ack, we just got here, we can't move again! I didn't heed her advice, so she made some recommendations to combat the mold with high tech filters and heaters, etc. But even in the summer months, we kept finding mold in new places, and we kept cleaning it. We realized we were playing a losing game of whack-a-mole (aka whack-a-mold). It was always in the back of my mind, and yet I didn't want to admit it that it was impacting my health. I didn't want to leave.
Read More