I finally said "Yes" to my utterly unreasonable and wildly heartfelt dream, a yearning that's been with me for far too long. I kept putting it off. "It wasn't the right time." "I didn't have the resources." "This is only for rich people." I was depriving myself.
Horses. Horses kept calling to me, from photographs, from pastures, tugging at my heart. The very site of a draft horse would move me to tears, and I didn't know why. Little did I know that draft horses are incredible healers, and their gentle power is exactly what I needed in my life, for my clients, and for my own health journey.
I've always wanted horses in my life. I had a pony in my early teens, but I grew too big for her. I said I'd have one again, but kept saying "Later." I would avoid going to stables because I didn't want to long for them.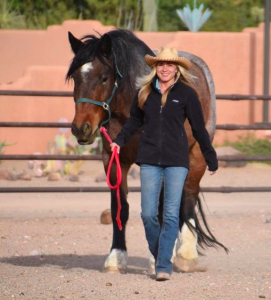 But then I saw a photo of my friend Devon Combs leading a huge draft horse (see left) on Instagram, and my heart melted. She had been encouraging me to come to one of her healing retreats since we met in 2012. I kept saying I'd do it later. Always later. I can tell you there was no benefit in waiting. I was pushing away my unbridled joy.
Read More