I Had to Leave to Heal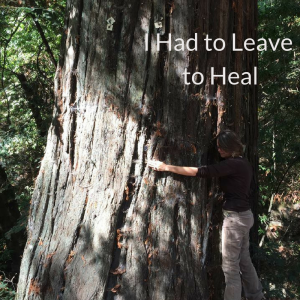 In my last post, I mentioned that I moved to San Diego and would share more about my quick exit. I'm sharing this as you may be able to relate to it and hopefully avoid unnecessary health challenges yourself.
My husband and I both love nature and were actively looking to move closer to nature about five years ago. We happened upon a beautiful house in the redwoods with amazing landlords. This place was everything we wanted. It was quiet, had open space and room for a garden. Dream. But, I noticed mold in the closet. The landlord said he would install a vent to keep the mold away and would take care of it, no problem. I was nervous about it, knowing how important it is for someone with a compromised immune system (I'm healing from autoimmune thyroiditis) to stay away from mold. I was so excited about this beautiful place and the potential for a garden. Even with that uneasy feeling in my gut, we moved forward.
Shortly after moving into our beautiful home in paradise, I told my holistic Doctor about the mold in the closet. She said "You must move!" Ack, we just got here, we can't move again! I didn't heed her advice, so she made some recommendations to combat the mold with high tech filters and heaters, etc. But even in the summer months, we kept finding mold in new places, and we kept cleaning it. We realized we were playing a losing game of whack-a-mole (aka whack-a-mold). It was always in the back of my mind, and yet I didn't want to admit it that it was impacting my health. I didn't want to leave.
While I was doing all the right things for my health all this time and making progress, there were some symptoms that would simply. Not. Go. Away. No matter what I did.
One spring day after the wettest winter we'd had, with flooding inside our home, and with mold surrounding us, we made the decision to leave. I knew it was for the best but I cried, cried, cried. I didn't want to leave, but I knew I needed to leave to heal. As I'm typing this, I'm shedding tears.
My health has improved and my body let go of those persistent symptoms. I finally gave my body what she needed and she happily responded.
So….(sigh)
Sometimes, we have to make hard decisions with our health. This is not the first time I had to let go in order to heal. I've had to let go of food I loved, relationships, jobs, other fabulous opportunities, all because my body said NO! This one seemed harder. I loved that place.
You may be able to relate. Either the part about ignoring your gut or letting go of something on your health journey that was hurting you. It can be really hard, especially when there's so much unknown and you don't know how you'll replace what you've lost. It can feel like letting go of your best friend–especially with food. You don't know how you'll land.
But even when it is hard, life will conspire to support your health and happiness. It's not always easy to trust, but I have yet to let go of something and not find a soft landing. Sure it hurt, but I rebounded, and I'm still here. I'm healing on a whole new level.
I'd love to hear about you. Do you have a story of leaving something behind or letting go? Perhaps sugar, a habit, or a friend? Life demands this of us sometimes and it's good to acknowledge your courage in making the hard decisions. Hit REPLY and let me know.
All the best,
Kara
PS. After my last post, I got a few emails asking if I was still offering my Reset Your Metabolism program (which includes the individualized food plan from metabolic balance). Yes, absolutely, and I'm in the process of redoing the whole program so it's even better than ever. I'm 100% virtual, all phone or skype! Stay tuned as I'll be sharing free tools soon.